Liverpool sports massage is the manipulation and rehabilitation of soft tissues of the body including muscles, tendons and ligaments.
Hands on deep tissue massage and soft tissue release forms a fundamental part in our treatments and assists in the healing process of injuries and conditions.
Our therapists offer massage for both sporting and non-sporting injuries as well as helping you recover faster from training.
Is deep tissue / sports massage for you?
You don't have to be a sports person to benefit from massage therapy. Muscle over activity is a significant factor in most, if not all injuries and postural conditions, creating excessive tension in certain muscle groups. This causes movement abnormalities of joints and the spine resulting in pain.
Deep tissue / sports massage will help treat:
Neck pain
Repetitive strain injury
Sprains
Tension
Headaches
Back pain
Muscle pains
General fatigue
Sports injuries
Swollen joints
We ensure you get the very best in treatment and advice.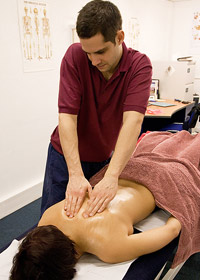 All of our therapists have experience of working within professional sport and extensive soft tissue training assuring you the very best in treatment and advice.
Our sports massage practitioners use a combination of techniques that have been developed to ensure effective and efficient results are gained from each treatment. These include...
Active release technique
Myofacial release
Sports massage
Trigger point release
Deep tissue massage
Soft tissue mobilisations
Deep tissue frictions
Pre & post event massage
What are the benefits of deep tissue / sports massage?
There are many benefits of deep tissue / sports massage which can have a positive affect on your body. Some of these can be:
Improved circulation and lymphatic flow
Decreases muscle tension & pain
Relieves pain and swelling
Increases flexibility & joint range of motion
Breaks down scar tissue
Speeds up healing time
Relieves muscle cramps
Improves posture
Increases or decreases muscle tone
Increase or decrease muscle length
Sedate or stimulate nerve endings
Assists removal of metabolic waste
Assists mental preparation for sporting event
Book Physiotherapy Liverpool Now!